The Best Online Digital Marketing Course in India
Nowadays, there is a high demand for skilled digital marketers, causing digital marketing courses to become increasingly popular. So, to have a successful career in this field, you need to master digital marketing skills. Hence, a digital marketing course is the best way to start.
Moreover, before the pandemic, students preferred classroom courses over online courses. Now, with the spread of the pandemic, online education is gaining traction. Hence, Online Digital Marketing Courses are much more flexible because you can learn from any place as long as you have a computer and a good internet connection.
There are many Online Digital Marketing Courses in India and in the world, but it can be overwhelming to choose one that fits your needs and career path. Therefore, to help your search, Quibus Trainings is one of the best institutes for an online digital marketing course in India.
And now, you might have a question in your mind:
Quibus Trainings India's best Institutes for an Online Digital Marketing Course – Modules, Duration & Fees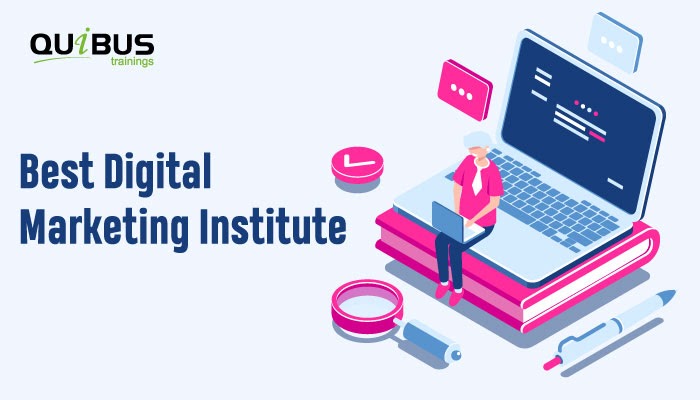 Among India's best digital marketing training institutes, Quibus Trainings is one of a kind, offers four-month live online classroom training, with the latest and advanced digital marketing agency-styled knowledge and 100 percent practical training on live projects.
About the Founder
Mr. Parmveer Singh Sandhu is the founder of Quibus Trainings, a digital marketing institute in Jaipur. With his 10+ years of experience in Digital Marketing, he has trained more than 3000 aspiring digital marketers across India on the correct path towards a successful career in the field. He is also the founder of Quibus Technosys – a digital marketing agency in Jaipur that is constantly helping many businesses in Jaipur to push and expand their business online.
Quibus Trainings Online Digital Marketing Course Details
Quibus offers 4 months digital marketing mastery online course, a live interactive classroom training program in just 33 Thousand INR. Moreover, the course covers all the cornerstones of digital marketing with 30+ advanced marketing modules.
Some advanced marketing modules are:
Understanding Digital Marketing
Domain and Hosting Management
Mastering WordPress
Search Engine Marketing (SEM)
Quora Marketing
Google Local Guide
Google My Business
Social Media Marketing
Email Marketing
Google Ads
Affiliate Marketing
However, after completing the course and passing of required exams, students are awarded 10+ internationally recognized certificates. These certifications include:
Quibus Trainings – Certificate of Excellence
7 Google Certifications
Facebook Marketing Certificate
4 HubSpot Certificates
SEMRush Academy Certificate
Why Choose Quibus Trainings for an Online Digital Marketing Training Course in India
A chance to learn from an expert who has worked with 100+ clients worldwide
100% practical training on live projects.
Live interactive Face-to-Face recorded classes and not pre-recorded videos.
Availability of recorded classes for self-paced learning
Lifetime availability of study material
You will get daily assignments to learn the concepts and skills of Digital Marketing thoroughly and practically.
Get all your doubts cleared by directly interacting with the trainer.
Earn 10+ internationally recognized certifications.
Earn Live Project Experience by developing your website from scratch
Learn best practices of the industry with their tips and tricks
Hands-on experience on the industry most demanding tools and softwares
6 Months training opportunity under the marketing experts
100% Placement Assistance for the freshers
So as you read above, these are the other benefits of joining Quibus Trainings. Therefore, to know more about the course, you can contact Quibus Trainings.
Benefits of Online Digital Marketing Course
There are many benefits of learning online digital marketing courses. Some of them are:
#1 Learn at Your Comfort
Online classes allow you to learn at your comfort: from your Home, Office, or anywhere which suits you the best. Therefore, to attend the classes, all you need is a laptop and a reliable internet connection
#2 Saving of Time and Cost
Online courses save your traveling time and traveling cost. Moreover, you don't need to travel long distances or spend money to reach your Digital Marketing Institute for the course like in offline classes. But instead, you can attend the classes from anywhere and at any time at your comfort.
#3 It's Safe
Due to the pandemic, online education is the best way to learn digital marketing. Hence, you can stay safe and protected from the covid viruses as online classes eliminate the physical interaction and help avoid crowds. However, which is not possible in offline classes.
#4 Vast Choices
Due to online classes now, you can choose the best and top courses or institutes of India for yourself. Therefore, you can get the best of learning and opportunities for your successful career. Which is not possible in offline classes.
Conclusion
Altogether, this is the best time to learn digital marketing and develop your digital skills for a better and more successful career in marketing. However, Quibus training is the ideal institute for an online digital marketing course in India to learn these necessary digital skills. Furthermore, their in-depth curriculum, practical training, and live project working will help you make ready for the industry.
Moreover, their 6 months training program will help you choose your desired field and make you the specialist of the field.